If you're keen to improve your painting skills, you'll often hear that you need to regularly "critique" your work.
Or worse, get someone else to. 
Does that bring out the heebie-jeebies in you? 
It always has for me.
But the truth is, identifying how to improve your own work, or receiving pointers on how to from others is invaluable to your own development. 
And if you're part of an art class, or an online school, you might find that you need to give a "critique" in exchange for a "critique".
So how can we go about "critiquing" in a way that actually motivates us, or whoever's work we're critiquing, to improve?
You might think that there should be two different approaches – one for when you're looking at your own paintings and one for when you're going to be delivering a critique to another person.

Wrong! We should take the same approach to both: we need to strike the right balance.
Here are my tips for how to do this:
1) Drop the C-word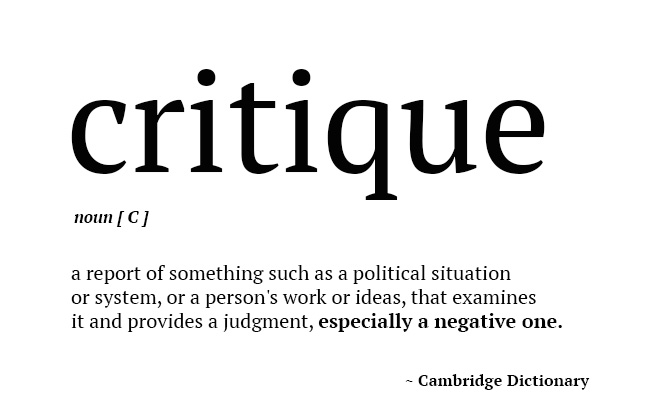 I hate the word "critique".
It's just too close to the words "critic" or "criticise".  
Crit-Eeek!!
It always sounds like an open invitation to have someone be mean to your work. And, by extension, that means being mean to you. Because your work is soooo personal, right?  
If it's taken you a long time to reach the point where you're beginning to nurture the inner artist you've previously neglected,  you're especially vulnerable.
And if you're someone who also has a rather-too-vocal inner critic (which I've noticed often goes hand in hand with having waited a long time to honor your creativity), receiving a "critique", or deciding to give yourself one, can be a recipe for shoving the paints back in the cupboard and leaving them there.
So how about we drop the c-word altogether and use appraise instead: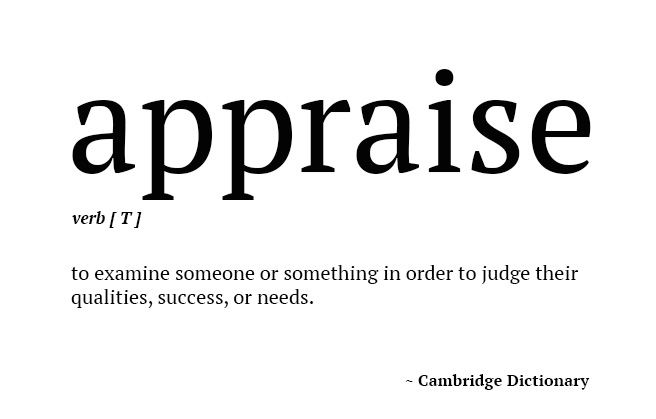 The word appraise then, includes the word praise, and that's exactly what we need to remember to include when appraising our own paintings or those of others. 
Also it makes me want to 🙌.
2) Make a sh*t sandwich
To appraise a painting well, we need to identify what is working, as well as what needs doing differently.
In fact, when I talk about BALANCED appraisals, I actually think this works best when the balance is tipped a little in the favour of the positives. We're all motivated by praise and encouragement. As children we certainly are, and just because our driving licence says we're no longer a kid, it doesn't mean the way we're motivated has changed much. 
So, I recommend that you think of appraising a painting (of your own work, or another's) like assembling a "sh*t sandwich". That is:  
Find a positive (the bottom slice of bread)

Find an area or 2 for development (the sh*t!)

Find another positive (the top slice bread)
Keep the ratio even, or biased towards the bread! Start with a positive, and end with one.
To stay motivated it is vital that we recognise the positives we have achieved. And it's also really important that we don't over-focus on the negatives because, as I looked at in this post, our minds are hard-wired to do just that.
3) What to look for
There are loads of things you can look for when you're appraising a painting, and to give you a guide, here's a list of what I use to appraise paintings completed in my realistic style. 
Remember, there is a huge subjectivity involved in viewing a painting, but if you are aiming for a realistic look to your work then there's a bit more objectivity involved as we usually know what it should look like. 
This is a big list, but to avoid over-thinking (important as we want to be responding from right-brain ideally), the best approach is to focus only on the main things that jump out at you about a painting.
Before you start: 
Get some distance
Look at the work close up and from a distance if you can. 
If it's your own work and you've been looking at it closely for some time, now look at it from the other side of the room. If you're still working on it or have recently finished, also allow some time to pass before appraising it, so that you can see it with fresh eyes.
Keep it to this one piece of work
Avoid using generalisations and keep the appraisal really specific to the piece of work you're appraising.
Things to consider:
Overall look
Does the painting look finished?

Is there 'unity' in the painting, does everything tie together well?

Does the composition work? Does it fit well on the page?

Does the whole painting 'pop' off the paper?

Where is your eye drawn to?
Subject representation
Is the subject easily recognisable?

Does the subject look true to life?

Does the subject look three-dimensional?

Do the colours look believable?

Are the colours vibrant?
Values
Does the painting use a range of tonal values to create contrast?

Do the values used provide depth?

Are there highlights to represent the light and show form?

Are the dark areas dark enough?

Do the midtones unite the light and dark values well?
Brush technique
Have realistic visual textures been achieved?

Are the brushstrokes 'painterly' and identifiable as brushstrokes, or hidden to create a realistic look?

How neat and crisp are the subject's edges?

Are any straight lines straight enough?

Has a light touch been used to capture detail where it's needed?
4) Hone your appraisal skills
What if you're trying to appraise a painting and you just can't see what's working and what's not?
Don't expect to be able to do this easily right in the beginning. 
You could be forgiven for thinking that your artistic skills begin and end with the work you produce. But it's not just the hand and the brush at play when you paint.
Really your work is the result of a highly complex mental process of observation and perception (sometimes referred to as the artistic way of 'seeing') and the whole painting process involves continuously reading your painting to see what it needs next, and where.
These observation and perception skills are much like a muscle. The more you use them, the stronger they get.
Practice: Work your muscles
So, as well as practicing painting itself, if you consciously 'read' and appraise paintings (including those by other people) on a regular basis, you'll find your artistic muscles begin to bulge and you can then make better judgements with your own artwork as you paint. It's a virtuous circle.  
Ask for an appraisal from someone else
When you're new to painting then, your artistic muscles may be a little undefined. 
And even if you've been painting a while it can be really hard to see your own artwork objectively when you've spent hours staring at it on the easel. 
That's why it's necessary to sometimes ask your peers for an appraisal by a fresh pair of eyes, to spot things you're just too close to the work to see for yourself. Another reason why it helps to learn in a community.
And receiving that appraisal can help your observation and perception muscles grow too, allowing you to see what they saw, and to take that new understanding into your next painting.
Always remember the praise in appraise!
If you strike the right balance, appraising your own art and the artwork of others will lead to improvement and the satisfaction and further motivation that comes with that. 
So, why not make some time this week to appraise your own work, ask for an appraisal from others, or even appraise a painting by someone else.
Have you suffered at the hands of a crushing 'critique' before? Share that story! Has it led you to be nervous to open yourself up to feedback, but with an 'appraise' reframe are you now feeling ready? Or have you regularly appraised your own work and seen the benefits?
Let me know in the comments below, I'd love to hear from you.