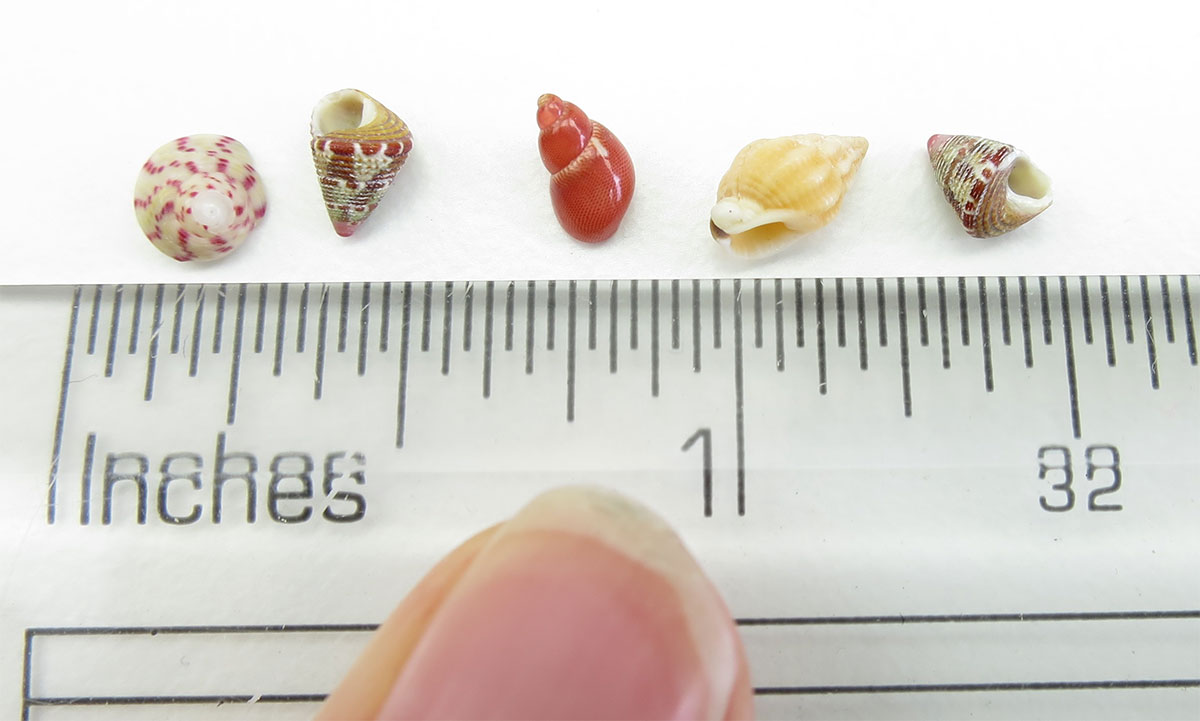 Childhood obsession
When I was 6 years old I became OBSESSED with micro-shells on a family beach holiday.
The sand on the beach there was amazing.
Each handful was comprised of hundreds of pretty large grains of sand a couple of millimetres wide. And for every 4 handfuls or so, there would be a micro-shell about the same size hiding in amongst them.
These shells possessed a level of detail and beauty that my 6 year old mind found fascinating.
And my 35 year old mind still agrees. Though I am not sure if I would have the staying power today to spend the kind of blissful hours I did when I was  hunting for these shells.
I collected several hundred in a jam jar!
Traumatic set-back!
And this was despite a traumatic set-back a few days into the holiday.
A well-meaning random Spanish lady who'd been watching me on the beach, decided I was collecting shells that were far too 'common'.
So she decide to 'help' me by tossing my entire collection back into the sand, only to replace it with just three of her own prized shells.
They were big plain black ones without anywhere near the amount of detail! NOT a fair substitution!
I cried.  But after a pep-talk from my mum, I got back to the search!
Painting allows you to soak-up the beauty of detail right to your core
Since then I have developed my passion for looking at the amazing details in nature by combining it with my other childhood passion – painting.
And I've been quick to use the macro capacities of our modern digital cameras to help me to 'see' more detail than the naked eye can perceive.
Then I've 'soaked-up' that extra detail really thoroughly via the painting process.
Micro photographer Gary Greenburg shares this passion.
And he's taken things to a whole new level by looking at things under a microscope.
In his TED talk he shows us that even something as ordinary as a grain of sand can be truly extraordinary if you look closely. Something I can definitely agree with!
He explains that no two grains of sand are alike in the world.
To see a world in a grain of sand
Greenburg finishes with a quote from William Blake who was obviously another one who could appreciate the magical quality of the tiny details in life:
To see a world in a grain of sand

And Heaven in a wild flower

Hold infinity in the palm of your hand

And eternity in an hour

–William Blake
Watch the 11 minute TED talk with it's amazing imagery here:
Stroll a 'beach' this summer
So for some artistic inspiration, take a moment this summer to walk a beach with your head down.
You'll probably find a 'treasure' or two (shell, driftwood, special rock), and it'll be an absorbing meditation-of-an-experience itself.
Take a jam jar to collect them in, and take some photos of your findings when you get home (even your smart-phone camera will likely take great macro shots).
And if you're no-where near a beach, you can probably find a riverbank that can offer some inspiration too.
I'm not taking a beach holiday this summer but I did visit London when the tide on the river Thames was out – exposing beach. Of course I couldn't resist a 30 minute 'treasure' hunt…
I'd love to hear in the comments below if  you've also found inspiration from the world of the very small around us.
Happy painting,
Anna x