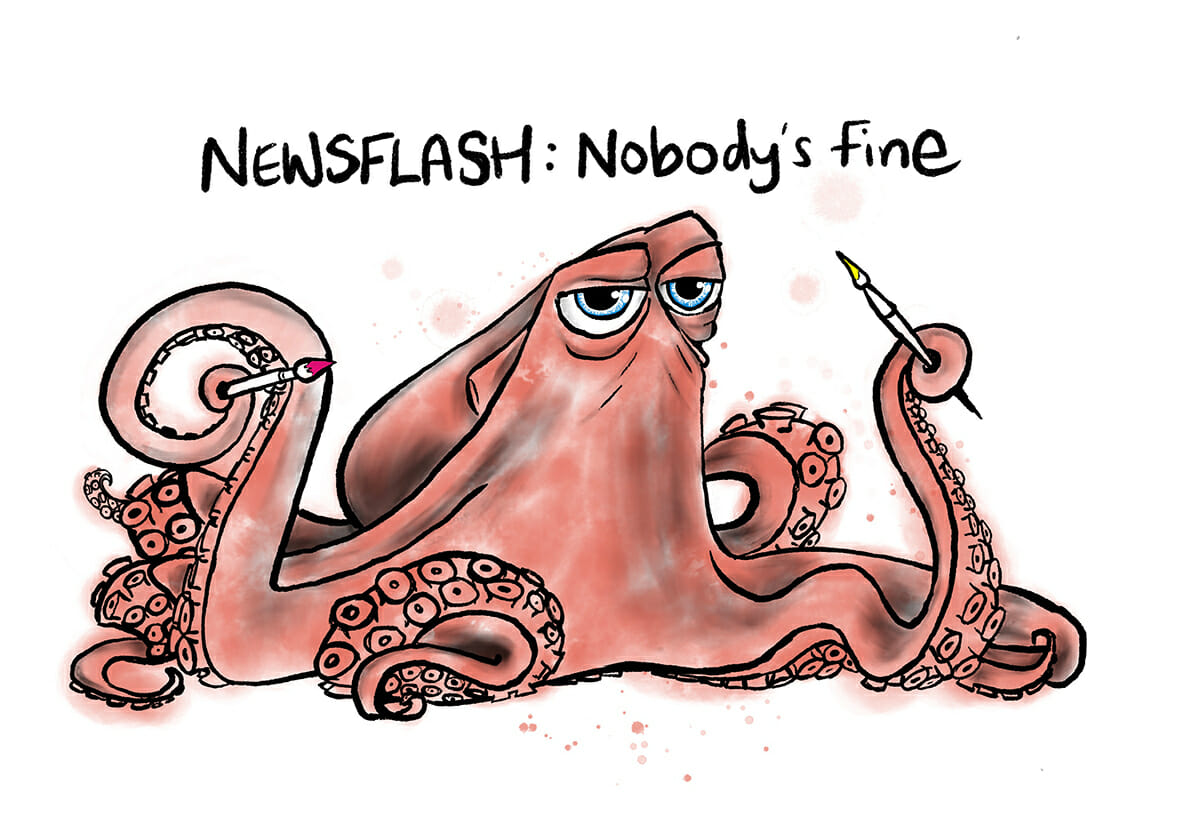 "How are you?"
There's a line in Finding Dory (my toddlers' favourite film right now) where the grumpy octopus, Hank, complains:
I hate chatter. "How are you?" "Oh I'm fine. How are you?" "Oh I'm fine too."

NEWSFLASH: Nobody's fine!
This makes me giggle every time we watch it, because I can really relate to this sentiment – especially at the moment with the pandemic unfolding. 
We all need a little help right now.  
The focus of this post was going to be about how painting can boost mental health.
But for lots of us, there's a step that needs to come first around admitting we're not actually FINE and allowing ourselves to prioritise activities such as painting that can really help us to feel better.
Self compassion is key
I've noticed this happen a lot recently: I'll be talking to friends who are experiencing real challenges relating to the pandemic that are seriously testing their emotional reserves. But, because they are not dealing with a loved one dying from Covid, and they haven't lost their job to it, or any of the many other ways people are suffering right now, they don't feel they have a right to complain, to others, or even to themselves. 
I get it, it's very important to keep a sense of perspective. And it's wonderful if we can access gratitude for the ways things are going well, however small.
But if we're not careful, thinking this way serves to shut our emotions down and invalidate them, when what we need is empathy and compassion, from ourselves and others, to feel better.
As Brené Brown writes in Rising Strong: How the Ability to Reset Transforms the Way We Live, Love, Parent, and Lead:
"Empathy is not finite, and compassion is not a pizza with eight slices. When you practice empathy and compassion with someone, there is not less of these qualities to go around. There's more. Love is the last thing we need to ration in this world. The refugee in Syria doesn't benefit more if you conserve your kindness only for her and withhold it from your neighbor who's going through a divorce. Yes, perspective is critical. But I'm a firm believer that complaining is okay as long as we piss and moan with a little perspective. Hurt is hurt, and every time we honor our own struggle and the struggles of others by responding with empathy and compassion, the healing that results affects all of us."
I love this way of looking at things. 
But many of us struggle with giving ourselves empathy and compassion. In fact some of us even experience a harsh inner critic who tells us to "Buck up, get on with it, other people have it far worse!". Coming from that place, looking after ourselves becomes tricky.
But self compassion can be worked on. As Hilary Jacobs Hendel writes in her groundbreaking and sanity saving book, It's Not Always Depression:
"Self compassion does not come easy for most of us. However, people who relate to themselves with compassion and acceptance feel better. Just think: When you are upset, do you generally feel better when you are treated with understanding, acceptance, and compassion or harshness and judgement? Our brains calm down when we feel safe, seen and accepted."
An experiment with self compassion
Hilary Jacobs Hendel urges us to try this experiment (which she's kindly allowed me to reproduce here):
Think of a recent event or memory that brought up hard feelings. 
Write it down.

Ask yourself what you would say or do to comfort a beloved friend who experienced the same thing and felt the same way as you. 

Write it down.

Once you access the compassion that you imagined giving to someone else, experiment with turning that compassion inward toward that part of you that was suffering recently. Actually try directing the comforting words or directing the comforting actions you wrote down to that part of you that was hurting. Give yourself unconditional permission to take in that compassion.

Breathe deeply. Use your imagination to breathe in the compassion and breathe out any distress. Notice your body and mind's response to this. If you find the exercise challenging, that's fine. It just means you are really doing it. Self compassion can be very difficult!

Write down two words that describe your response to this experiment (your thoughts, feelings or any bodily sensations you notice). Many people feel warm or more relaxed when they let in self-compassion. 
Look after yourself by making time to paint
Ok so now we've acknowledged that we have been having a tough time, and that there's more of it to come (hello winter!), it's time to act like that beloved friend to ourselves and encourage ourselves to take pre-emptive actions to really take care of our mental health.
Giving ourselves permission to do this might feel difficult. But if you take care of yourself, you'll be in a better position to support others when they need it too. Remember: you can't pour from an empty cup. 
For us arty types, painting can be a key part of the equation. And thank goodness, it's a Covid-friendly activity. 
I know from my own life that when I lived through cancer, divorce and IVF, painting really helped me. But don't just take my word that painting can boost mental health; the science backs this up, as does the experience of many members of my online school, who've kindly allowed me to share their experiences with you below.
3 ways painting can boost mental health
1) Painting helps us to switch off from our worries
The top way that members of my online School said painting helps with their mental health is that it offers them a refuge to switch off and forget about whatever is troubling them for a while.
Painting is a form of meditation or mindfulness. By bringing our attention to just one thing – the subject we're painting – we close the door to thoughts of worry or anxiety. We become more present in the moment. 
Meditation has been shown to have numerous positive effects which boost mental health, very similar to the ones reported by my online School members: 
"Painting puts me into a meditative state where I can forget about the world. I forget about everything this life has handed me and I go into zen mode and the heaviness in my brain disappears. When I am finished with me-time, I feel refreshed and full of energy."

"I have PTSD and so forth. Your tutorials help stop my brain from working overtime. It offers me a welcomed break. There is something about creating a painting and seeing the colours come together that is very therapeutic. I think it is essential to find something that fills your cup. That gives us joy and a sense of accomplishment."

"Painting has been an absorbing activity that distracts the mind from these troubling times in a positive way."

"When I am occupied in a productive way, I am less likely to be troubled by the idea of being home-bound and missing my former activities and interactions"

"I signed up to your classes during lockdown as I was getting down about not seeing my family, friends and especially Grandchildren. My husband has also been diagnosed with cancer which is an anxious time for us. Painting has kept me sane for the last 6 months. I love how you forget everything else whilst painting. It gives you a sense of achievement and I've always got something to do to distract me from any worries."
As my School members have described, painting helps us to find our 'flow state', where time disappears and our worries seem to melt away.
This is because painting engages our spontaneous, imaginative 'right brain', which has the effect of disengaging our overthinking, anxiety-prone left brain. If you find that painting isn't having this effect for you, try this technique to quieten your left brain.
2) Painting can reduce stress and improve our mood
The ability to switch off from our worries and anxious thoughts can have a powerful impact on lowering our stress levels. 
The way that painting reduces stress is to elicit the 'relaxation response'. 
You have most likely heard of the stress response, also known as 'fight or flight'. But it's lesser known that the stress response is one of two competing physiological responses that counterbalance each other on an ongoing basis.
The relaxation response is the arch-nemesis of stress. 
When we're stressed, our heart rate and blood pressure increase. But carrying out activities which bring on the relaxation response has been scientifically shown to decrease our heart rate and blood pressure, and also to reduce our levels of cortisol, the stress hormone.
If that's not enough, there's also scientific evidence that making space in our day for creativity can put us into a more positive mood.  
I certainly notice these responses in myself when I find time to paint. Here's what my members say about their own experiences:
"I believe with all my heart that painting provides me with an active way to fight feelings of anxiety and depression, remembering that I am more than the problems around me. Painting offers precious hours of peace and rest. This is where I disengage from usual obligations to indulge in something that brings great joy and ignites my passions."

"Painting is the best way for me to unwind from my daily routine and step away from the stress. [It allows] me to engage my talents and fully engage myself in something I love. It provides hours of quality time where I can focus on something other than depressing and concerning circumstances. I come away feeling more relaxed and better equipped to handle life's many stressors."

"I am a special education teacher to the most severe and profound children with special needs. Painting has kept me sane! At the end of the day, no matter what stress and challenges I have endured, I come home and paint. Painting gives my soul a refuge. One that is always there for me."
3) Developing our painting skills builds self esteem in the longer term
Seeing our skills develop in something makes us feel good and builds our internal sense of self-worth. 
But we don't need to wait for our skills to grow to feel good about ourselves.  It's been shown that just the act of engaging in the creative arts can improve our self-esteem and boost mental health, even when we start in the later years of our lives.
I love seeing the self-esteem of my School members grow as their painting skills develop. Here's what some of them say about it:
"My counsellor suggested an art class and that's where my journey started. I joined a 6 week class, getting out and meeting new people was the first positive step. I watched tutorials on YouTube, bought some books on watercolour painting and eventually stumbled upon Anna's School. The positive feedback I got from family and friends about my paintings really boosted my confidence and gave me a feeling of self worth."

"Observing my progress or achieving a good result is especially satisfying and provides encouragement. If we keep trying and don't give up, things will get better!"

"When we do finally come out of this thing, I will have used the time to develop a new skill. I am determined to make the best use possible of this forced sabbatical!"
If your self-esteem could do with a bit of a boost, choose something such as painting to focus on, and work to build your skills in one specific area. 
And the bonus: lowering stress may boost our immune systems
The mind-body connection is very real, and stress is listed as a contributory factor of most of the major illnesses.
It's been found that cortisol (that pesky stress hormone) has immunosuppressive properties that cause a delayed immune response. 
Taking proactive steps to make painting part of your daily life could help you to manage stressful events when they happen. This in turn should help to regulate your cortisol levels, and keep your immune system in better shape.
Some of my members even reported that painting helps them to have a better quality of sleep:
"I find that painting helps to lower my blood pressure. Am able to relax and sleep better and it is helping me to "focus". Surprised when I first started, how hard it was to sit and focus but that is getting better."

"I notice that when I engage my right brain in painting/drawing during the day, which gives my overactive and anxiety prone left brain a rest, my overall sleep habits improve. But when stress overcomes everything and I find myself staring at the ceiling at 2 AM, grabbing my sketch book or working on a painting for 30-40 minutes allows me to sleep again… Painting along with regular walks outside have saved me from the isolation we are living through. "
Sleep has been found to have a very close connection with mental health, and studies have shown that improved sleep can boost mental health.
I hope that this post has given you pause to think about how you can be kind to yourself right now, and how you might want to prioritise painting in your daily life to help boost your mental health, now, and into the future.
Have you turned to painting and creativity during times of stress, overwhelming emotions, or poor mental health? How have you found that it has helped you? 
Please share your own experiences in the comments below. It's so important that we speak openly about how we're feeling, for our own sake and to let others know that they are not alone in the world because 
NEWSFLASH: Nobody's fine!