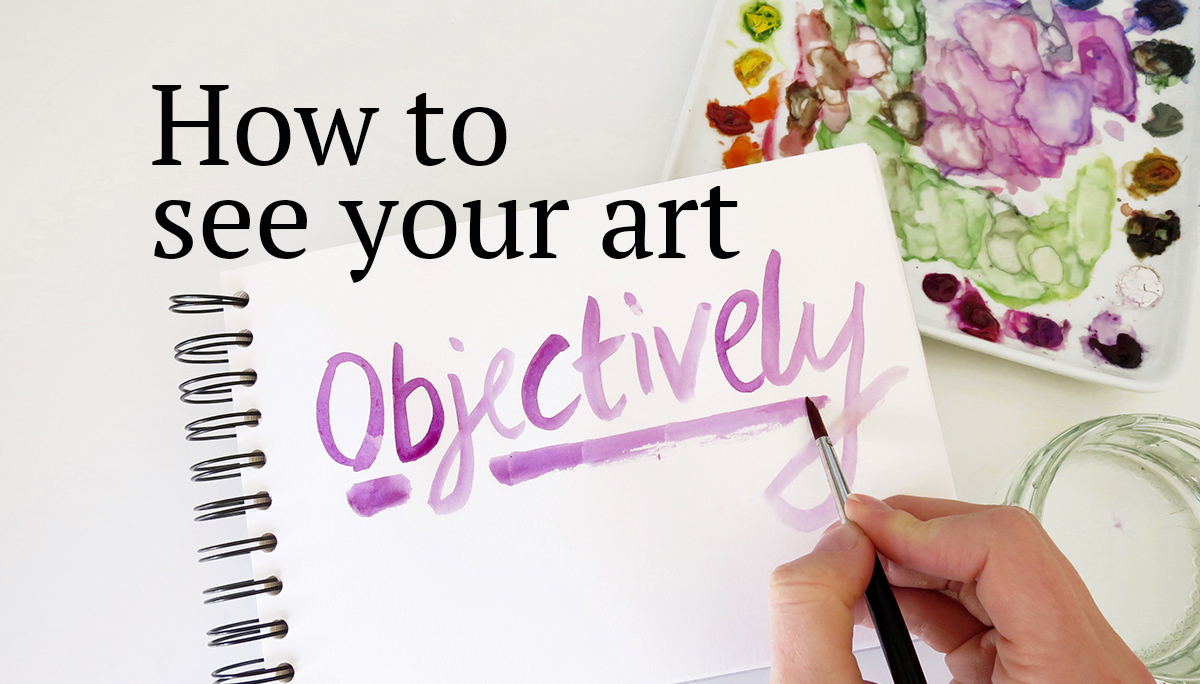 Be honest:
How often have you been told a piece of art you have created is great, only for you to respond by pointing out its faults? 
Most of us have done this A LOT. 
But why is it that us artists place more emphasis on the weakest parts of our work than on the strongest?  Why do we want to draw other peoples' eye to the parts we like least?
What does it matter that the rest of the painting is vividly realistic and visually exciting when you know you got that leaf in the bottom corner wrong?  
Is it the case that the peeps offering praise just don't know a bad leaf when they see one, or is the problem really with you?
Well, there's good news and bad news.
The bad news is that the problem here is likely always you (at least partly).  The good news is that it's not your fault. In fact, the issue is with your brain's hard wiring.  You're experiencing the effects of something we all have, known as the Negativity Bias.
So what is Negativity Bias? Well, it is best explained as the tendency to place more weight on the negative than on the positive. Neuroscientist Dr. Rick Hanson describes that "in effect, the brain is like Velcro for negative experiences, but Teflon for positive ones." We see many examples of this in life, for instance if a work appraisal or school report contained 95% positive comments but one negative comment, we may consider this to be overall negative. 
As someone with perfectionist tendencies, I'm all too familiar with this. Phil used to laugh at me (nicely) when I would teach workshops which provided anonymous feedback forms. I'd usually have 14 out of 15 giving me 10/10. Then there'd be one, usually for whom the painting style was not a fit, who'd give me 7/10 or something, and I'd fixate on that one form, trying to think who it was from and how I could have taught them better! 
We also see this bias in artistic practice. Almost every aspect of a piece of our art may be spot-on, but if just one thing is not right, we deem the painting unsuccessful.
We have our ancestors to thank for kindly passing this bias down to us. But we shouldn't be too ungrateful.  After all, this mindset meant that they remembered danger and survived the threats which intrigued their less cautious comrades who didn't live to tell the tale.  The Negativity Bias is valuable for staying alive, but not ideal when it comes to appraising our own art. Or is it?
There are reasons why Negativity Bias is good.
There are times when a critical eye is needed, and that's when Negativity Bias can be our best friend.  Spotting the weaknesses in our work helps us to find and fix mistakes, stretch ourselves, learn and improve.
But if we're not conscious of it, this bias can hinder our ability to see our art objectively and appreciate our accomplishments.  Worse than this, forever seeing our work through negative-tinted glasses can become seriously demotivating.
According to Dr. Hanson, it IS possible for us to overcome negativity bias by interrupting it in its tracks.
But what if my problem's not Negativity Bias? What if my art is just bad?
Let's be clear here.  Just because your work isn't yet coming out the way you would like it to, this does NOT mean that it's bad!  You are learning. Be gentle with yourself.
Sometimes our work will fall short of our expectations and this is an important part of the learning process.  It's what happens when we challenge and stretch ourselves to learn new techniques. It's possible that your technical skills are just taking time to catch up with your creative vision. Check out this post for advice on working through this issue.
Even if your technical skills need more practice, it's still likely that Negativity Bias is also playing a role in the way you view your art. The ability to see your art objectively is another skill that you can learn in time.
Here are my top tips for overcoming Negativity Bias so that you can see your art objectively:
Controlled, conscious critiques
First of all, don't critique your work before you have finished it – all paintings go through the ugly duckling stage. You are doing yourself a disservice if you continuously critique your overall piece of work before it's ready.
When your work is at a stage where you feel it is ready for a critique, consciously put your mind into "critique mode".  You might do this by moving the painting to a different place to look at it objectively, away from your workspace. And, especially crucial for detailed work you've been closely looking at, make sure you step a few paces back from your work to gain a different perspective.  When you are consciously critiquing your work, you can be mindful to ensure that Negativity Bias is not invited.
Are you able to make objective observations about the work without your inner critic casting judgement?  If you are noticing any negative judgments in your mind, try leaving your painting for a day or two. Come back to it with fresh eyes and a new perspective.
Once you have finished critiquing your work, consciously tell yourself that you are exiting "critique mode".  Deliberately entering and exiting "critique mode" will help you to resist critiquing your work outside of those times.  After a while, this discipline should become a habit. You will not see your work through critical eyes every time you look at it, and Negativity Bias will have no opportunity to interfere. 
Find the positives
So, the piece you have been working on hasn't become the success you had hoped that it would.  Is it time to eBay all your art equipment? Of course not. Was it a waste of time, paper and paint?  Absolutely not. 
Why? Because there will always be elements of your work that were a success.  Sometimes it is the successful elements of our work that make us feel most disappointed if other things in the painting go wrong. 
You may not be able to stop yourself from dwelling on the part that didn't go right, but you can at least identify the things that did.
Anytime you are not feeling sure about a painting, start by identifying 3 things you have done well with the work.  In fact, this is a healthy way to start a critique of any piece of work.
Call in the reinforcements
If the relationship between you and your painting has become so strained that you struggle to find three positives, it's time to call in some back-up.  Share your painting with a supportive friend who is also learning (the community in my online School is perfect for this). Ask them to find the good points – they will be able to! Not because they are being kind, but because they will have the distance and perspective to see your art objectively, even if you can't just yet.
As scary as that thought may seem, sharing your paintings with the right people works wonders for your creative development and can lead to real breakthroughs.
Are you able to see your art objectively? Does Negativity Bias affect the way you view your work?  Do you have any tips on how you counter negative thoughts about your work?  I'd love to hear them, so please do share in the comments below.