I usually paint with a 'botanical' style plain background. That means that if I drip/blob/smudge paint onto that background I'm potentially in trouble.
Especially if I'm, say, 15 precious hours into a painting.
Luckily though, I find that usually a small blob, if the paint is watery enough will lift off without issue (see this vid for a demo).
But sometimes the watercolour has well and truly stained the paper, and all dabbing at it does is ruin the surface of the paper.

Then what?

This has happened quite a few times to me and I find that the best strategy is, instead of panicking, to stay very OPEN to the idea that this could be an opportunity for a 'composition correction'.  Because the times it has happened, I've actually found it ended up being a 'happy accident' that gave me an opportunity to improve my painting (after I finished swearing!).
Let me show you with these tulips I was working on for an exhibition in Madrid.
Things started well. As this was a painting on a big scale (for me), I was using my big brush (for me) and plenty of gorgeous rich red paint. Note the TWO leaves I'd washed in to the bottom left of the tulips: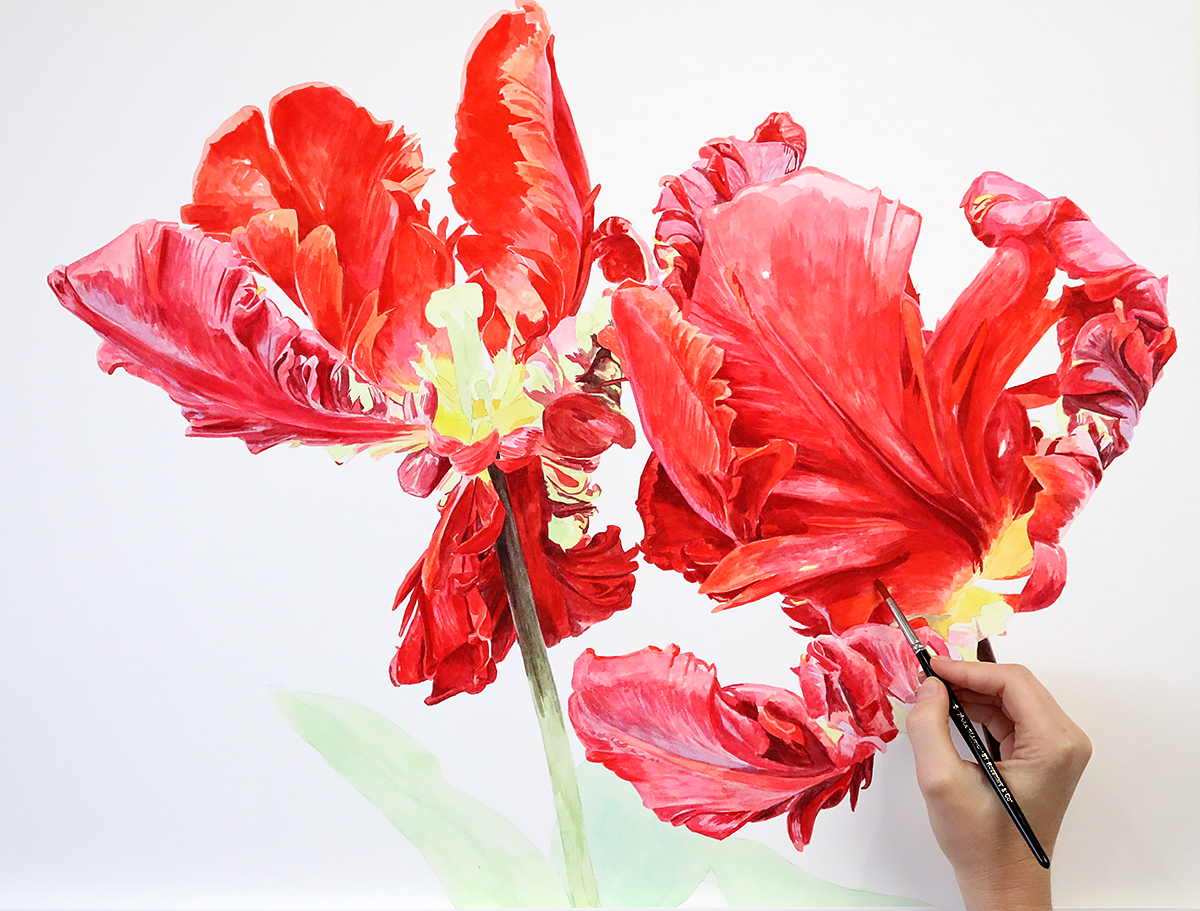 Then, when working with that bigger brush came the almost inevitable flick of red paint onto the background – down in the bottom right corner. Sometimes if a flick of paint was small enough I'd just leave it as it wouldn't be very noticeable. But this one was too big for that. Plus this was for an important exhibition…
Uhh ohh.  What could be done? It wouldn't lift off with water/kitchen paper. What could I add to the composition to hide it?
Fortunately this blob was in a position which lent itself to being covered in another leaf.  And I say fortunately, but I've always found that a blob CAN be covered by another element of composition if you're open to ideas.  So I drew in a new leaf to cover it: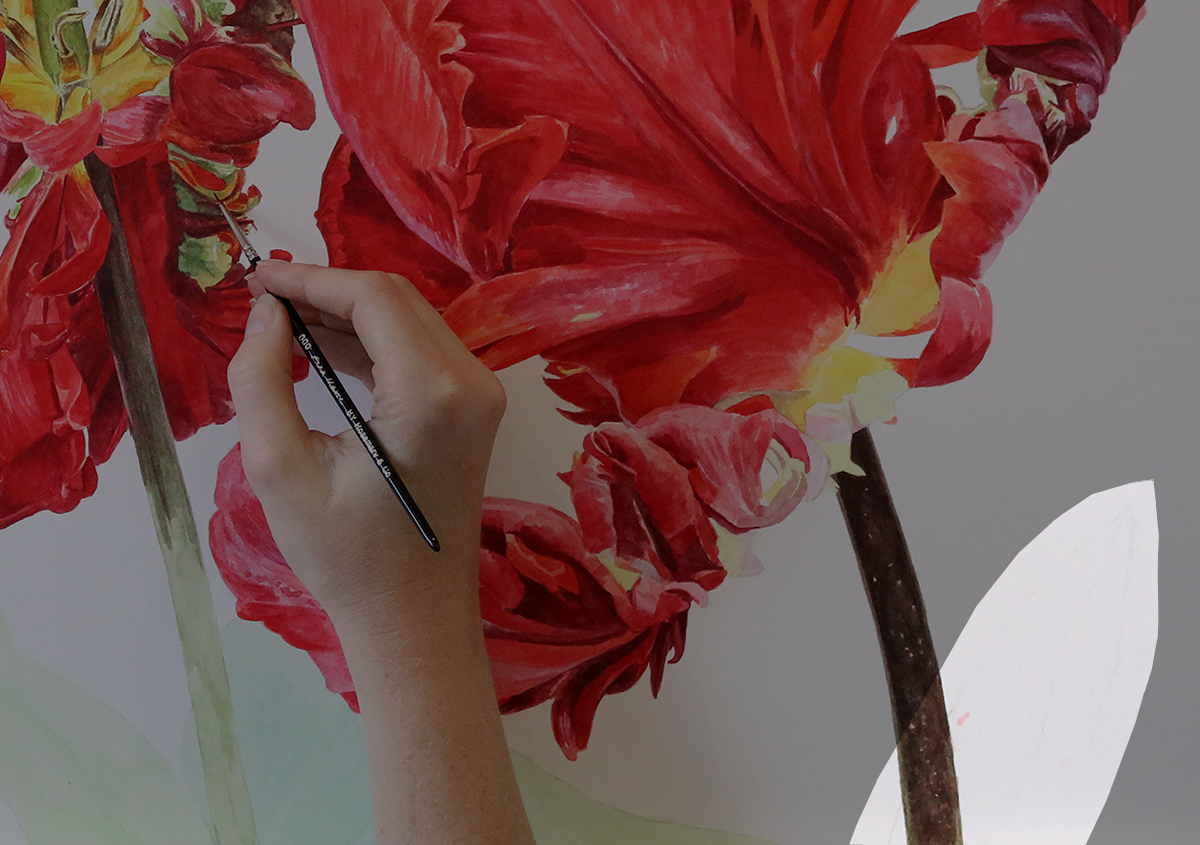 And I actually think the composition was improved as a result – as has always been the case when I've adapted for a mischievous (or were they actually helpful) blob!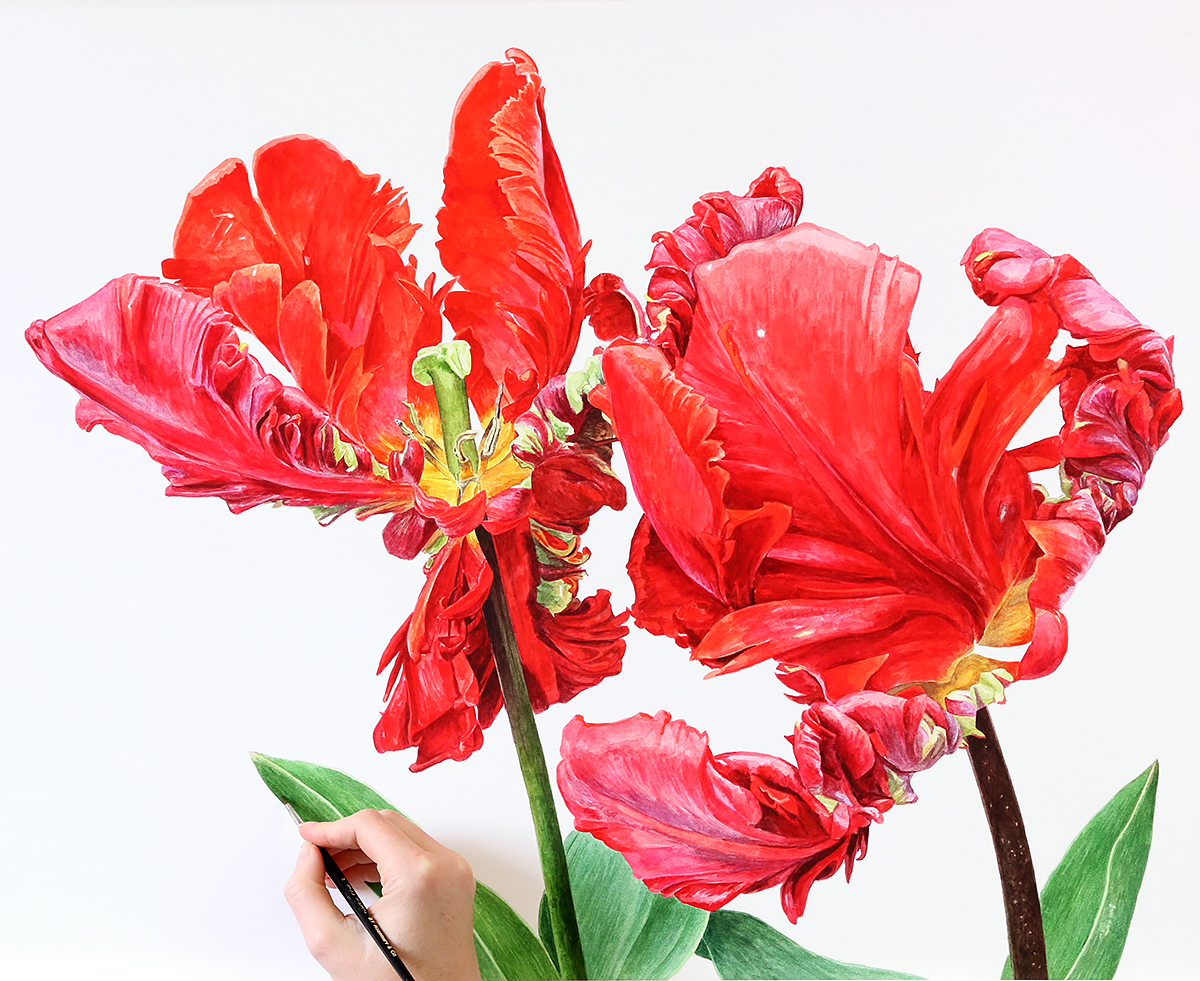 I wanted to share this to reassure you that this sort of thing happens even if you have loads of watercolour experience, and that there is no reason to flip-out when it does.
Instead, ask 'How's this helpful little mistake going to allow me to improve my composition?'.

Then don't rush into anything. Take a break and plan a couple of options – use a sketchbook or mock something up in Photoshop if you need to!
I'd love to hear about your own 'happy accidents' – and even the not-so-happy ones, so please leave me a comment below.